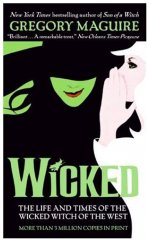 Wicked: The Life and Times of the Wicked Witch of the West
Gregory Maguire











10










If ever a book needed an editor... this is it. Too many authors feel compelled to dump all their research into the book. The premise is good (indeed, his series is built on it), but is overwhelmed with too much exposition in the second half.
No comments found, be the first!

22










A twisted spin on the Wizard of Oz. Fairly interesting looks at characters remembered from my childhood. Starts out great, but gets tiring by the end - it was probably 100 pages too long.