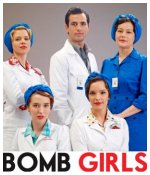 They work in munitions factories, building the arms that keep their overseas husbands, lovers, brothers and sons alive and fighting. Amid propaganda and sexual harassment, crossing social and cultural boundaries, these remarkable women form a sisterhood never experienced before. When your overseas lover could be shot dead tomorrow, when the materials you work with could explode in your face today -- you don't play by the old rules.
Drama, TV, War
27










Seems like a pretty good WWII era drama, aside from the apparently budding lesbian relationship, which seems awkwardly shoehorned into the show. Has a bit of the
Mad Men
vibe, though the story mostly focuses on the women.