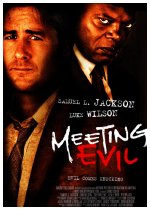 When a stranger comes to his door seeking aid (Samuel L. Jackson), John's (Luke Wilson) generous nature leads him to become entangled in the man's lunatic spree of violence. By the end of the day, John must decide what acts he's willing to commit to protect his family.
Horror, Mystery
27










The acting was decent, but the script was a bit slow and odd - I kept wondering if they were going to pull a
Fight Club
. It does have a fantastic monologue by Leslie Bibb in the middle though, speaking to the police.