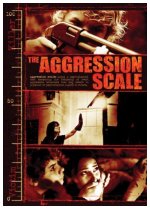 The Aggression Scale
2012










A gangster's four brutal enforcers hunting for a half million bucks in hidden cash cross paths with a teen girl and her troubled brother. The simple job escalates into an all-out war when the siblings fight back ... with surprising skill.
Action, Horror

1










must see - totally B.A.
27










The kids in this bloody action movie are good, especially Ryan Hartwig. He portrays a cold psychopath perfectly without speaking a word.