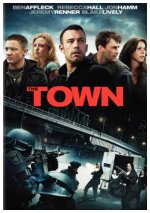 Career bank robber Doug (Ben Affleck) and his volatile partner, Jim (Jeremy Renner), hit a roadblock when Doug falls for bank manager Claire (Rebecca Hall), whom he kidnapped during their last heist. Worse, an FBI agent (Jon Hamm) is now trailing the thieves around their Charlestown, Mass., territory. Affleck directs and co-writes this smart, intricate actioner that co-stars Blake Lively as Krista, Jim's sister and Doug's troubled former flame.
Book, Drama, Heist, Romance, Thriller
27










A really well done crime drama. Ben Affleck was great, and the rest of the cast was good as well. Blake Lively's performance didn't seem very good to me, but her part was tiny so it didn't really affect the film.