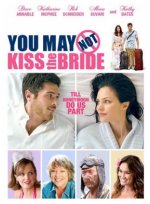 You May Not Kiss The Bride
2011










In the spirit of Romancing The Stone, an unassuming pet photographer is thrown into serious action, adventure and romance when he is forced to marry a Croatian bride and then must rescue her after she is kidnapped while on their honeymoon at a remote tropical resort.
Comedy, Romance
27










The plot and some of the acting was fairly ridiculous, but Mena Suvari played a hilariously great crazy ex-girlfriend. A romantic comedy centered around Katharine McPhee looking attractive.
No comments found, be the first!