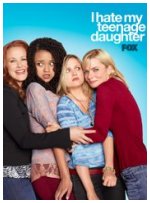 I Hate My Teenage Daughter
2011










Taunted by mean girls in high school, friends and single mothers Nikki Miller and Annie Watson are dismayed to realize that their spoiled daughters, Mackenzie and Sophie, are becoming the kind of teen tormentors that make school unbearable.
Comedy, TV
27










This show had me cringing, not laughing. The overblown sarcasm of
Suburgatory
just highlights the awkward attempts of this sitcom to make the uncool parent stereotype seem funny again.