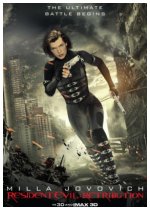 Resident Evil: Retribution
2012










The Resident Evil franchise kicks into fifth gear, with the dreaded Las Plagas parasite returning to play an important role in the action. Taking a page from the fifth Resident Evil game, the plot also includes zombies, car chases and gun battles.
Action, Sci-Fi
27










Half-hour wasted intro, weak acting from Sienna Guillory, and a few huge silly plot holes. At least the action was fun than the last - though more utterly ridiculous than usual at parts. Open-ended as always.
No comments found, be the first!