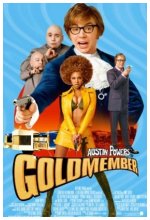 Austin Powers in Goldmember
2002










The world's most shagadelic spy (Mike Myers) continues his fight against Dr. Evil in the third installment of the Austin Powers series. This time, the diabolical doctor (Myers) and his clone, Mini-Me (Verne Troyer), team up with a new foe -- '70s kingpin Goldmember (Myers again). While pursuing the team of villains to stop them from world domination, Austin gets help from his dad (Michael Caine) and an old girlfriend (Beyoncé Knowles).

Action, Comedy, Spoof, Spy

16










Meh, the worst of the three movies. The concept is getting stale, and no new ideas are being put forward. Re-watch the first one instead.