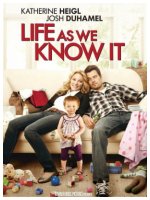 Caterer Holly Berenson (Katherine Heigl) and network sports director Eric Messer (Josh Duhamel) discover a reciprocal hatred during an ill-fated first date -- but are forced to put their feelings aside when their mutual friends die and they become the guardians for orphaned Sophie. Now, Holly and Eric must learn to live with each other and juggle their promising careers while taking care of the little girl in this romantic comedy.
Comedy, Romance

15










This movie doesn't totally wow you, but you also don't feel ripped off after seeing it. It delivered solidly (albeit with a predictable plot) with a mixture of sorrow and comedy--which made it feel like real life. Both stars were fun to watch.
27










Billed as a comedy, but it felt more like a drama about what makes a family - with funny moments interspersed. The entire cast was pretty solid - a decent film.