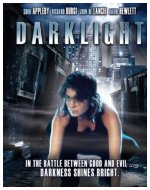 Her memory erased by a powerful spell, young Lilith (Shiri Appleby) knows nothing of her history as an ancient demoness with the mystical power of Darklight. But when the evil Demonicos begins spreading the plague across Earth, Lilith's past catches up with her. Enlisted by William Shaw (Richard Burgi), a member of the secret society known as The Faith, Lilith must race against time to slay the Demonicos is in this gripping sci-fi thriller.
Fantasy, Sci-Fi, TV, Thriller
27










Clearly a made for TV movie, though a few of Shiri Appleby's scenes are entertaining. The CGI is terrible, and the scenes done with only CGI look worse than a computer game. Thankfully, the plot isn't horrible, an odd retelling of the Lilith story.