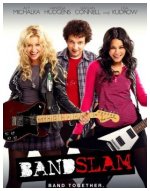 Social outcast Will (Gaelan Connell) doesn't know what to think when the popular Charlotte (Alyson Michalka) asks him to manage her fledgling rock group. But agreeing to help her win the school's upcoming battle of the bands turns out to be one of the best decisions he's ever made. For one thing, it's brought him closer to Sam (Vanessa Anne Hudgens), a girl who shares Will's passion for music but doesn't realize how talented she is.
Children, Drama, Romance
27










I didn't much from this, considering Vanessa Hudgens is a main character - but it turned out pretty good. Solid story - maybe a bit too much music, but it was expected considering the movie is about high-school rock bands.