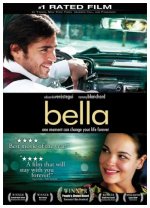 Two lost souls -- Nina (Tammy Blanchard), a pregnant, unmarried waitress, and Jose (Eduardo Verástegui), an introspective cook with a tragic past -- find solace in each other as their lives become unpredictably linked throughout the course of one incredible day. First-time director Alejandro Gomez Monteverde also co-wrote the screenplay for this inspirational story about love, hope and forgiveness.
Drama, Indie, Romance

9










Nice movie, but a bit choppy. The ending isn't the best either.