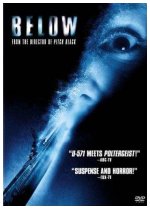 In this sci-fi thriller penned by Darren Aronofsky, an American submarine stumbles upon a downed British hospital ship while navigating treacherous waters during World War II. After rescuing the ship's three remaining survivors, Lt. Brice (Bruce Greenwood) and his men discover that true danger may not come from the Germans pursuing them, but rather from a ghostly threat that lurks far below, or even within, the submarine itself.
Sci-Fi, Supernatural, Thriller
27










The overall plot of this thriller is good, but the supernatural sub-plot is unnecessary and an insult to an otherwise good film.