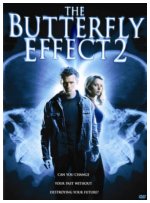 The Butterfly Effect 2
2006










After his girlfriend (Erica Durance) and two best friends are killed in a tragic auto accident, Nick (Eric Lively) struggles to cope with his loss and grief while suffering from migraine-like seizures. But he soon discovers he has the power to change the past via his memories. The catch is that Nick's time-traveling attempts to alter the past and save his one true love have unexpected and dire consequences for the present.

Sci-Fi, Thriller
27










This sequel should never have been made, it adds nothing to the original
The Butterfly Effect
and manages to combine sub-par acting with a yawn-inducing plot to create a film barely worthy of being a late night TV movie.