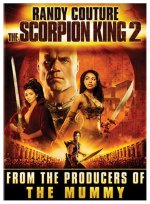 The Scorpion King 2: Rise of a Warrior
2008










Employing an all-new cast, this action-driven prequel to The Scorpion King tells the heroic tale of young Mathayus (Michael Copon) and his relentless quest for justice against an evil and powerful villain, King Sargon (Ultimate Fighting champ Randy Couture). Mathayus faces heart-stopping tribulations during his adventurous, odds-defying trajectory toward his ultimate destiny: becoming the formidable warrior king of an ancient desert empire.

Action, Adventure, Thriller
27










Supposedly a prequel, but bearing no resemblance in cast or acting quality to
The Mummy
or
The Scorpion King
- this rivals some of the worst movies I've seen. Many of the actors sound like they're reading, and the script is drivel.