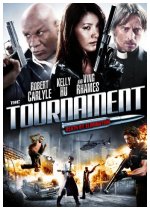 Every seven years, the world's deadliest hired guns converge on a random town to compete in the Tournament. The rules are simple: The last contestant standing receives $10 million and the title of the world's greatest assassin. Meanwhile, the competition is recorded on closed-circuit cameras and broadcast live to a secret room, where billionaires bet on the results. Ian Somerhalder, Kelly Hu and Robert Carlyle star in this killer thriller.
Action, Adventure, Thriller

10










I enjoyed it, as it was rather well made. The script could have used a lot of work, and the plot that supposedly drove the film was weak. In essence it could have been so much more - and you really have to be in the mood to see it!
27










Good action but a bit slow towards the end, and the ending was extremely predictable.