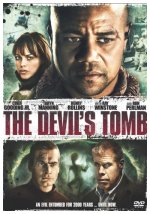 Sean Connery's son Jason Connery directs this taut action thriller about an elite group of soldiers (including Cuba Gooding Jr., Taryn Manning and Jason London) sent to rescue a missing scientist (Ron Perlman) from an underground lab, only to learn from a priest (Henry Rollins) that an ancient evil has been released inside the facility. Ray Winstone co-stars as the soldiers' seasoned former leader, who helps them figure out their next move.
Action, Adventure, Supernatural, Thriller
27










So bad it felt like a horror spoof. Surprising considering the large amount of recognizable actors on the cast, but they managed to use every single cliche and horror gimmick all rolled into one film.