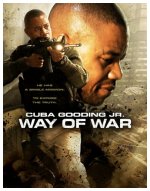 Sent overseas to kill a ruthless terrorist, special ops assassin David Wolfe (Cuba Gooding Jr.) uncovers a secret that puts his own life in jeopardy: a nefarious conspiracy that involves the highest levels of the U.S. government. Now, Wolfe must use all his skills to expose the truth before the powers that be snuff out his life. J.K. Simmons, John Terry, Lance Reddick and Jaclyn DeSantis also star in this taut thriller from director John Carter.
Action, Spy, Thriller, War
27










An odd mix of conspiracy and adventure, though definitely not an action film. Even though it's different than normal genres, it works.