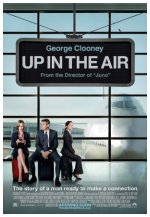 Ryan Bingham (George Clooney) racks up miles flying around the country firing employees on behalf of companies. But he faces losing the job he savors to recent college grad Natalie Keener (Anna Kendrick) -- and losing the ability to escape emotional ties to anything. A connection he builds with Alex Goran (Vera Farmiga), however, might change his outlook on the future. Golden Globe winner Jason Reitman's smart comedy also stars Jason Bateman.
Book, Comedy, Drama, Romance
Related Titles
Random Titles
27










The dialog with Vera Farmiga is laughably bad in the beginning. The good part is the voiceovers done by George Clooney, and his interaction with Anna Kendrick (who was good except for her pathetic attempt at crying).

10










For some reason I am not as "up in the air" about this film as many. And that even though GC is one of my favorite actors. It is a nice film and easy to watch. Would not classify it as an Oscar film though!