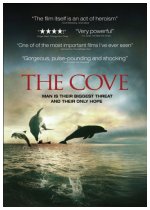 This riveting documentary (winner of the Audience Award at Sundance) follows a group of animal activists to a scenic cove in Taijii, Japan, where they use surveillance equipment to capture footage of a secretive and heavily guarded operation run by the world's largest supplier of dolphins. As the daring group risks their lives to expose the horrifying truths behind the capture of dolphins for the lucrative tourist industry, they also uncover an environmental catastrophe.
Documentary
Related Titles
Random Titles
27










A fairly interesting documentary, though some of it had a weird conspiracy theory vibe because of the people involved. Still, they seemed to gather good evidence, and told an interesting story

10










One of the best documentary I have seen in a long time. Its biggest downfall is that it isn't longer! It builds up to final captivating photography, which somewhat isn't anything more than you expected. A must see though!