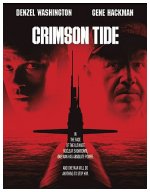 Controversy boils over when Soviet rebels point nuclear weapons at the United States, and a message for the nuclear-missile sub USS Alabama gets cut off during transmission. Capt. Frank Ramsey (Gene Hackman) thinks he's been ordered to launch a pre-emptive strike, while Lt. Cmdr. Ron Hunter (Denzel Washington) believes the submarine has been ordered to stand down. Will the Alabama prevent a nuclear holocaust, or start one?
Action, Adventure, Thriller, War
27










A very solid suspense movie, as you would expect from Gene Hackman and Denzel Washington. It took a little while to get going, but in the end it was an enjoyable film with plenty of twists to keep the story moving.