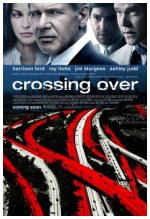 Boasting an all-star cast that includes Harrison Ford, director Wayne Kramer's thoughtful drama weaves several stories together to create an emotionally charged examination of immigration in Los Angeles. Ashley Judd and Ray Liotta co-star in the powerful ensemble film, which provides a harrowing look at border crossing, document fraud, asylum seekers, naturalization, counterterrorism and the clash of cultures in America.
Comedy, Drama, Foreign

10










I always enjoy movies with multiple characters which are connected throuch complex web, such as Crash and Traffic. Crossing Over is not as good as those but it does manage to leave you thinking. Its biggest downfall is lack of suspense at any point.