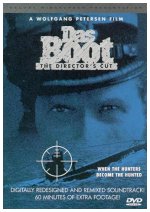 Nominated for six Oscars, this edge-of-your-seat dramatic triumph follows the trials of a German U-boat crew during World War II. Upon its restored re-release in 1997, an hour was added to the original film, which further augmented its impact. It also played as a six-hour German miniseries. In all its forms, the realistic and gripping battle scenes and palpable human struggle make Das Boot a critical hit.
Action, Adventure, Foreign

16










Now *this* is a movie that knows how to do suspense. It's on the long side, but every minute is important. The ending in particular was really effective.