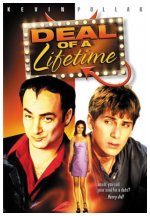 When socially inept sophomore Henry (Michael Goorjian) announces that he'd do anything to date cheerleader Laurie Petler (Shiri Appleby), Satan's sleazy agent Jerry (Kevin Pollak) suddenly appears with an offer Henry can't refuse. In exchange for his soul, Jerry grants Henry wealth, popularity and a romance with Laurie. But he soon sees the downside of his Faustian bargain as his life begins to spin out of control.
Comedy, Romance
27










Kevin Pollak is pretty funny as a devil's advocate, but the rest of this movie is just a sappy teen romance/moral tale.
Bedazzled
is a much more entertaining 'deal with the devil' choice.