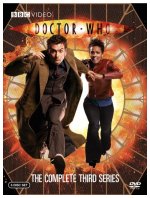 More than 15 years after "Doctor Who" went off the airwaves, the venerable sci-fi series got a well-received 21st-century makeover, complete with younger actors, modern editing and vibrant CGI animation. In the revamped show's first season, the Doctor (Christopher Eccleston) gets a new sidekick -- a department store clerk named Rose (British pop star Billie Piper) -- and travels to Victorian England to help a beleaguered Charles Dickens.
Action, Adventure, Fantasy, Sci-Fi, TV

10










Bursting with camp, this update on the classic stays true to its roots, replete with low budget villains and gassy aliens. Eccleston, Tenant and Smith have become "the doctors" for a new generation. Forgive the CGI and plot holes and enjoy.

11










An excellent show that both inspires and lightens the mood of the viewer. One of the few shows that is genuinely positive!