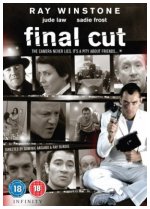 In this unconventional British drama, a deceased man's (Jude Law) friends gather for a wake at his widow's apartment and take the opportunity to watch a video documentary he'd been working on at the time of his death. The guests are shocked to find that the video consists of hidden camera footage showing nearly every one of them at their worst and revealing a host of secrets and lies -- which forces them to take a long, hard look at themselves.
Drama, Foreign, Indie
27










Unlike the Robin Williams version
The Final Cut
, this movie is actually entertaining. It starts out a bit slow, but when secrets are exposed it's like a train wreck - can't look away. Film quality intentionally resembles home video.