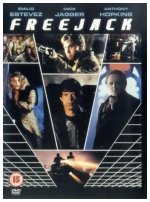 As his race car is about to explode, driver Alex Furlong (Emilio Estevez) is suddenly transported 18 years into the future by a bounty hunter (Mick Jagger) who wants Furlong's body as part of a plan to extend the lives of the ultrarich. The bewildered Furlong escapes but finds himself running for his life and, with nowhere else to turn, he contacts his former girlfriend (Rene Russo) for help. Anthony Hopkins also stars in this sci-fi thriller.
Action, Fantasy, Sci-Fi, Thriller

14










I'm not even sure where to begin with this film. It is horribly acted, looks awful and plays like a less than mediocre B movie. Mick Jagger should stick to singing and Emilio Estevez should try to have this expunged from his record.