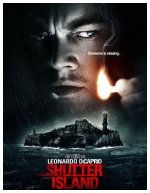 World War II soldier-turned-U.S. marshal Teddy Daniels (Leonardo DiCaprio) investigates the disappearance of a patient from a hospital for the criminally insane, but his efforts are compromised by his own troubling visions and by Dr. Cawley (Ben Kingsley). Mark Ruffalo, Michelle Williams, Emily Mortimer and Max von Sydow co-star in director Martin Scorsese's plot twist-filled psychological thriller set on a Massachusetts island in 1954.
Book, Drama, Mystery, Thriller

10










Very good mind play drama. Had me lost in the mains characters head for a bit, scorsese did a good job confusing me :).

10










Yeah, the movie was okay, but I was too confused at the end. I don't know if he was crazy or what. Not a good ending.
27










A delusional story spun into a film with poor effects and a rather unclear ending. The only redeeming factor was a decent cast, so the acting was okay. Overall a very disappointing movie.