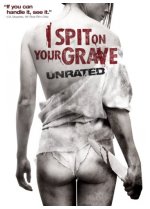 I Spit on Your Grave
2010










In this horror remake, young writer Jennifer (Sarah Butler) finds life at her rented retreat perfect for working on her first novel. But her enthusiasm is shattered by her vicious rape. Now, the local thugs responsible will face an excruciating fate. Jennifer's attackers command developmentally disabled Matthew (Chad Lindberg) to kill her, but he fakes the murder, leaving the scarred writer to carry out a gruesome plot for revenge.
Horror

10










The critics gave this a bad rating, only because most critics are men. Besides some of the amateurish acting, this movie was excellent. At least to me it was. Watch this with your girlfriend.
27










A brutal, graphic movie. Worse than the
Saw
series in terms of sex and violence. At the same time not as gross, since the violence tends to be more realistic and less gratuitous.