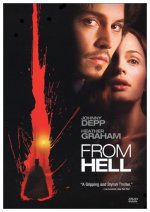 Johnny Depp stars as an opium-huffing inspector from Scotland Yard who falls for one of Jack the Ripper's prostitute targets (Heather Graham) in this Hughes brothers adaption of a graphic novel that posits the Ripper's true identity. Ian Holm and Robbie Coltrane co-star in this genre-bending drama that marked Albert and Allen Hughes's laudable attempt to break out of their pigeonhole as "black directors."
Book, Drama, Horror, Mystery
27










I really expected this to be better - the acting was fine but it took far too long to set up the story.