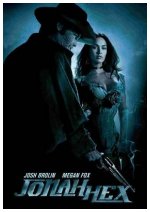 Enlisted by a Union soldier (Will Arnett), scarred bounty hunter Jonah Hex (Josh Brolin) scours the Wild West in pursuit of Turnbull (John Malkovich), a crazed voodoo master with a scheme to assemble a devastating weapon that will destroy the government and lift the Confederacy. Based on the cult DC Comics hero, this action Western co-stars Michael Shannon as strange circus impresario Doc Cross Williams and Megan Fox as beautiful gunslinger Lilah.
Action, Adventure, Sci-Fi, Superhero, Supernatural, Thriller, Western
27










Should have been darker, and the comic book section seemed out of place. The acting wasn't very good, but that was expected - and the close to death fights had really low production values.
Max Payne
is an example of this type of film done right.

10










I don't know if it's worthy of 2 stars. It was really predictable. A storyline I've heard too many times. Come up with something new. Although the fact that he can talk to the dead is really cool. :)