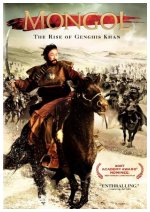 In 12th-century Asia, an orphaned young slave named Temudjin (Tadanobu Asano) escapes from his captors' clutches and begins a journey that will lead him to become one of the greatest conquerors the world has ever known. Honglei Sun and Ying Bai co-star in this Academy Award-nominated epic from writer-director Sergei Bodrov, the first in a trilogy of adventure films relating the life story of Genghis Khan.
Action, Adventure, Drama, Foreign
Related Titles
Random Titles
27










A decent historical drama involving Genghis Khan. Spots of action here and there, but he sure did spend a lot of the movie running away from people and/or trying to get back home.

9










I was impressed by how well the director portrayed the life of Ganghis Khan in such a successful cinematic way.

8










With a compelling and detailed story, stunning cinematography, and huge battles, Mongol had me captivated from start to finish; leaving me wanting more. Mongol is the first in a trilogy on the life of Genghis Khan, covering the first 30 years.