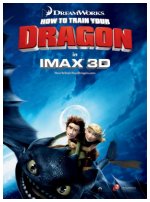 How to Train Your Dragon
2010










As the son of a Viking leader on the cusp of manhood, shy Hiccup Horrendous Haddock the Third faces a rite of passage: He must capture and train a dragon to prove his warrior mettle. But when the only dragon he can snare is a paltry, toothless beast, his trial doesn't go as planned. Dean Deblois and Chris Sanders direct this animated adaptation of the book by Cressida Cowell that features the voices of Jay Baruchel, Gerard Butler and America Ferrera.
Adventure, Animation, Book, Children, Fantasy, Sci-Fi

12










For a cartoon movie I actually enjoyed it, My ex gf dragged me to watch it and I thought it was going to be lame, It turned out to be really good, Id watch it again.

15










I'm not much into animated movies, but this one was very appealing. Turned out to be a bit too scary in parts for some younger audience members. Cute, clever and engaging.

8










Super adorable. Great story, great animation, lots of fun. Would recommend it to anyone

11










Is anything these guys put out not great? Amazing animation and art direction as always. A classic, just like all of Dreamworks films.

9










A fun, beautiful story. The animation is fantastic and the story line is captivating for all ages. A movie no one should miss.
27










Really fun animated Viking adventure - great for kids, but plenty of story to keep it entertaining for adults as well. On par with
Toy Story
and almost as good as
Shrek