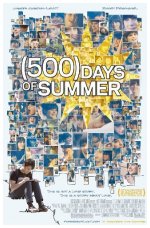 (500) Days of Summer
2009










When his girlfriend, Summer (Zooey Deschanel), unceremoniously dumps him, greeting-card copywriter and hopeless romantic Tom (Joseph Gordon-Levitt) begins sifting through the year-plus worth of days they spent together, looking for clues to what went awry. As he recalls the good and bad times he spent with the commitment-phobic girl, his heart reawakens to what it cherishes most. Marc Webb directs this uncommon love story.
Comedy, Indie, Romance

15










Odd,quirky, and ultimately enjoyable. You're never sure where the story line will end up--pleasantly, it's not a sappy story nor is it one full of disillusionment. Excellent casting, even in the minor roles.

9










its kinda slow at first. flash backs throw you off a bit, dont watch it if you dont have the time you need to pay attention.

8










Very well done. Artsy and storybook-like, and has a current obsession (Matthew Gray Gubler <2) in it.
27










An unconventional love story - excellent.