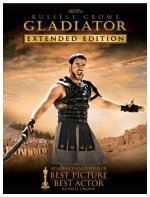 Oscar winner Russell Crowe is Maximus, whom Roman emperor Marcus Aurelius (Richard Harris) had picked to succeed him. But Marcus's son Commodus (Joaquin Phoenix) snatches the throne, ordering Maximus dead. Instead, he's enslaved and learns to be a skilled fighter. When the Coliseum opens for gladiator games, Maximus finally has the chance for revenge. Ridley Scott directs this vivid epic, winner of the Oscar and Golden Globe for best picture.
Action, Adventure

16










Kind of on the cheesy side, but it worked for me. An interesting biographically-scaled story; Forrest Gump meets Troy? Eh, anyways, I liked it.

9










Awesome movie one of my favorites. Plus Russell Crowe is hot in it.
27










Russell Crowe delivers.