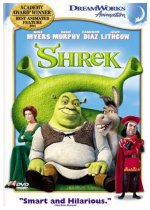 It ain't easy bein' green -- especially if you're a likable (albeit smelly) ogre named Shrek (Mike Myers). On a mission to retrieve a gorgeous princess (Cameron Diaz) from the clutches of a fire-breathing dragon, Shrek teams up with an unlikely compatriot -- a wisecracking donkey (Eddie Murphy). This is the widescreen version of the film and includes a commentary, technical goofs, a storyboard pitch of deleted scenes and more.

Adventure, Animation, Children, Comedy

16










Very funny treatment of the fairy-tale movie genre; it isn't just a role-reversal, it also pokes fun at nearly every other standard element of the old Disney films. Myers pulls off the accent well, and Diaz clearly had a lot of fun with her role.