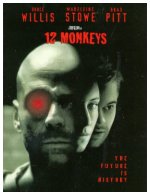 In the year 2035, convict James Cole (Bruce Willis) volunteers reluctantly to be sent back in time by scientists to discover the origin of a deadly virus that wiped out nearly all of the earth's population decades earlier. But when Cole is sent mistakenly to 1990 instead of 1996, he's arrested and locked up in a mental hospital, where he meets a psychiatrist (Madeleine Stowe) and the son (Brad Pitt) of a famous virus expert (Christopher Plummer).
Fantasy, Sci-Fi, Thriller

16










Oh man, could watch this movie over and over. Surreal and gritty in the best sense. Kind of a nearer-future Blade Runner in mood.
27










Brad Pitt plays an excellent crazy dude. Aside from that this was mediocre at best - with a simple story with similarities to
The Butterfly Effect
, plodding along slowly.