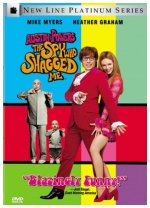 Austin Powers: The Spy Who Shagged Me
1999










When diabolical genius Dr. Evil (Mike Myers) travels back in time to steal superspy Austin Powers's "mojo," Austin (also Myers) must return to the swingin' '60s himself -- with the help of American agent Felicity Shagwell (Heather Graham) -- to stop the dastardly plan. Once there, Austin faces off against Dr. Evil's army of minions and saves the world in his own unbelievably groovy way. Verne Troyer co-stars as Dr. Evil's clone, Mini-Me.

Action, Comedy, Spoof, Spy

16










Amusing little flick. Stuck to its premise pretty well, unlike the sequel. Goes for all the easy jokes, but hey, they're all good easy jokes.