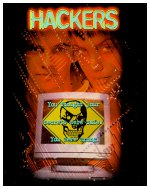 After being banned from touching PCs for years, former child prodigy Dade Murphy (Jonny Lee Miller) rejoins the computer-crime underworld. Enlisting fellow hackers Killer (Matthew Lillard), Nikon (Lawrence Mason), and Kate (Angelina Jolie, in an early role) for some e-mischief, Dade stumbles onto a sinister cyber-plot orchestrated by a corporate computer expert (Fisher Stevens). High-tech suspense ensues in this dated, campy thriller.
Action, Adventure, Thriller
27










A classic - campy and totally unrealistic but still an entertaining ride with a decent cast. Very much an over-the-top 90's teen movie.