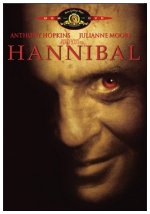 Anthony Hopkins returns as one of the great villains in screen history -- Hannibal "The Cannibal" Lecter -- in this riveting sequel to The Silence of the Lambs that finds Lecter's only surviving victim trying to draw the serial gourmet out of hiding. Eager to get his revenge on the sadistic killer, the now-hideously scarred Mason Verger (Gary Oldman) uses the one person Lecter cares about as bait: FBI agent Clarice Starling (Julianne Moore).

Action, Book, Drama, Mystery, Thriller
27










Slow start, but in the end this film got everything right that
The Silence of the Lambs
did wrong. Julianne Moore is much better than Foster was, Lecter is a great villain - and the end features one of the creepiest scenes in cinema.