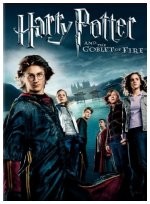 Harry Potter and the Goblet of Fire
2005










Best-selling author J.K. Rowling's fourth book comes to life as young wizard Harry Potter (Daniel Radcliffe) starts a new school year at Hogwarts, competes in the treacherous Tri-Wizard Tournament and faces the evil Lord Voldemort (Ralph Fiennes). Friends Ron (Rupert Grint) and Hermione (Emma Watson) help Harry manage the pressure … but Voldemort lurks, awaiting his chance to destroy Harry and all that he stands for.

Adventure, Book, Children, Fantasy, Sci-Fi, Supernatural
27










The best of Harry Potter so far - plenty of adventure, magic and action - it really feels like the series is hitting its stride.