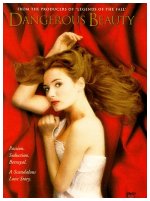 Prevented from marrying her nobleman lover (Rufus Sewell) because of her commoner status, real-life historical heroine Veronica Franco (Catherine McCormack) is left with two choices: join a convent or become a courtesan. Following in mother's (Jacqueline Bisset) footsteps, she chooses the latter. Set in 16th-century Venice, this biographical drama follows Franco as she rises to power and fearlessly fights off accusations of witchcraft.
Book, Drama, Romance
27










A wonderfully executed romance set in Italy, revolving around a courtesan.