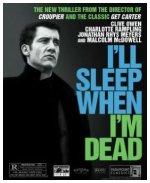 I'll Sleep When I'm Dead
2003










In this arresting film, retirement isn't in the cards for mobster Will Graham (Clive Owen), who's just settling into a quiet life in the country when he hears that his brother (Jonathan Rhys-Meyers) has met a brutal end. There's nothing left for him to do but seek vengeance, even if it destroys his chances at peace and freedom. Charlotte Rampling and Malcolm McDowell co-star; Mike Hodges directs.
Drama, Foreign, Indie, Thriller
27










Odd movie, takes most of the film for any action to happen. The whole movie is spent resolving one rather small event.