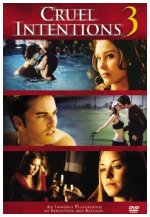 Cassie (Kristina Anapau), Jason (Nathan Wetherington) and Patrick (Kerr Smith) have more than getting a college degree on their minds. They get their kicks from toying with the emotions of their classmates, whom they seduce and then destroy with no regard for possible consequences. But when the usual games grow uninteresting, Jason and Patrick decide it's time to battle for Cassie, even if their friendships are forever destroyed.

Romance, Thriller

5










DOnt waste your time watching this movie.
27










Rehash of the original
Cruel Intentions
with a less complicated plot and a worse cast. More akin to a National Lampoon movie than the original.