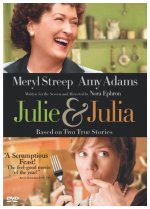 Amy Adams stars in this truth-inspired tale as Julie Powell, who decides to enliven her uneventful life by cooking all 524 recipes outlined in Julia Child's culinary classic Mastering the Art of French Cooking. Based on Powell's book Julie & Julia: 365 Days, 524 Recipes, 1 Tiny Apartment Kitchen, director Nora Ephron's heartwarming dramedy also stars Meryl Streep as legendary chef Child, for which she won a Golden Globe.
Biography, Book, Drama, Romance
27










Mixed bag, Amy Adams is hilarious and charming, while Meryl Streep is uncharacteristically annoying, with a horrible accent. If this movie had only been the half with Amy Adams scenes it would have been excellent.