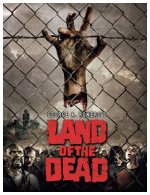 Zombie king George A. Romero is back with a fourth gruesome tale of the walking dead -- and this time, they've taken over the planet. Humans have lost the battle against the flesh-eating ghouls, and the living are now barricaded within a walled city reigned by ruthless despots. When the zombies develop advanced military tactics, it's up to a group of mercenaries to save the living. Dennis Hopper, Simon Baker, John Leguizamo and Asia Argento star.

Horror, Supernatural
27










Far superior to
Survival of the Dead
, the acting feels a bit tired but the plot is my favorite out of George Romero's "intelligent zombie" movie series. He doesn't make any of the characters especially charismatic though, which makes it less interesting.