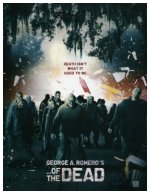 Survival of the Dead
2009










Rebel military man Crocket (Alan Van Sprang) and his band of rogue soldiers seek refuge from the living dead, only to land squarely in a family feud between the undead-hating O'Flynns and the Muldoons, a cure-seeking clan determined to help their zombie kinfolk. Cult horror master George A. Romero rises again to deliver another delicious zombie fest where the festering question is: Can a caring family coexist with their flesh-eating loved ones?

Horror, Supernatural
27










Definitely not your classic zombie film - mostly slow paced with a few action sequences. The characters were well done, and the story was passable.