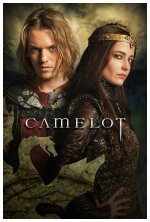 In this adaptation of the classic fable, a young and untested King Arthur takes the throne of Britain and, with the help of Merlin and Guinevere, confronts the forces of darkness that threaten his realm, including his ruthless half-sister, Morgan.

10










As a big fan of the King Arthur story I was excited about this series, and it starts of fairly strong, but by the end of the first season you wonder if there will be a 2nd. Also clearly working with a smaller budget than
Game of Thrones

10










Camelot stars an androgynous lesbian as an adolescent King Arthur in this modern twist on the classic coming of age tale.
27










A well known cast but the acting isn't engaging aside from Eva Green and Claire Forlani. Even Eva overplays her role a bit, but in an amusingly villainous manner. The story seems pretty solid until they destroy the cast at the end of the first season