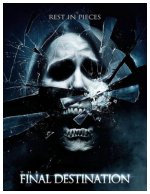 The Final Destination
2009










Young Nick O'Bannon (Bobby Campo) thinks he's cheated death when he keeps a grisly premonition from becoming reality, saving his friends and himself from being crushed in a catastrophic accident -- but the survivors soon realize that fate has other plans. Shantel VanSanten, Haley Webb and Nick Zano also star in this fourth installment of the Final Destination franchise, the first film in the series to be lensed in 3-D.

Horror, Supernatural
27










Good popcorn flick, similar to the rest of the
Final Destination
series. So bad it's funny.